13: Research Area Truth Table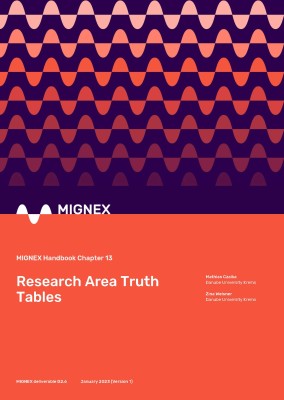 Analyses within MIGNEX draw upon multiple data sources. Some data sources are combined by means of Qualitative Comparative Analysis (QCA). This chapter follows up on MIGNEX Handbook Chapter 6 and uses the data to lay out the synthesis and calibration procedure for generating Research Area Truth Tables.
Key takeaways
QCA allows for combining multiple types of data in systematic analyses of patterns of similarities and differences between research areas.
Raw data are grouped into 24 condition and outcome categories, followed by a re-coding and 'fuzzifying' procedure. The resulting matrices are known as truth tables.
Selection and combination of individual data instruments into broader concepts of conditions and outcomes is driven by theory and research questions.