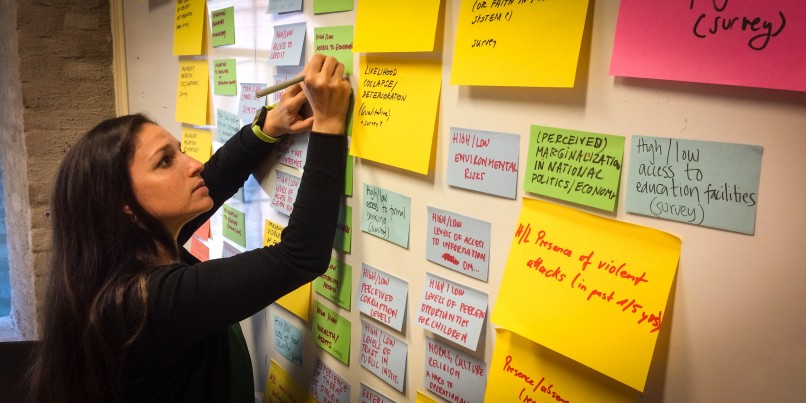 Back in June, members of the MIGNEX consortium met in Oslo for a workshop to prepare for the project's threefold data collection as a part of our synchronisation work package. As a mixed methods research project, MIGNEX will collect and analyse both quantitative and qualitative data, implementing a large-N survey and conducting focus groups and key informant interviews in 25 research areas, alongside policy reviews in 10 countries. Coordinating this data collection is no small feat, and by its very nature, mixed methods research poses challenges in how to get different modes of data to complement one another.
Why mixed methods research?
Mixed methods research – collecting and analysing both quantitative and qualitative data in the same study – draws on the strengths of both methods. For MIGNEX, it will enable us to explore and unpack the complex migration and development nexus. For analysis MIGNEX will employ Qualitative Comparative Analysis - an analytical tool able to bridge qualitative and quantitative elements, and innovative in the field of migration and development. We will combine the survey dataset, policy database and focus group data into a single analytical dataset – a research area truth table. The truth table allows comparisons from across our 25 research areas and exploration of the complex two-way causal mechanisms between migration and development, which is at the heart of MIGNEX. 
Developing our approach
Our Oslo workshop brought leaders of the different data collection methods together in one room to unpick the challenges around data collection and share ideas and suggestions  – a milestone in the MIGNEX inception phase. Discussions centered around how best to coordinate data collection methods both theoretically and logistically, to ensure that our quantitative and qualitative data really speak to one another. Questions were asked about how to best operationalise key (and challenging!) concepts such as migration aspirations, and whether they would be best be captured in the survey, focus groups and policy review. Initial data collection plans were proposed and developed as a result of feedback and ideas exchanged between workshop participants. We also began to drill down into the nitty-gritty logistics of data collection, drawing on the participants' wealth of experience from previous research projects. 
Next steps
November will see us finalise our approach to data collection at our next workshop, ahead of the pilot phase for all three methods kicking off early next year.