Migration-relevant policies in Afghanistan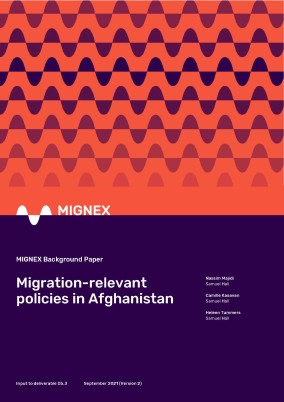 On paper, it appears that policy reform was underway in Afghanistan in alignment with the migration context. Yet in practice, linkages with development policy remained uncertain and a donor-driven focus on return and reintegration added further strain on an already fragile context.

This report is based on data collected in 2020-21 and provides a snapshot of migration policies before the fall of the Government of the Islamic Republic of Afghanistan (GoIRA).
Key takeaways
Emigration, return and internal displacement are dynamic facets of the Afghan migration and displacement context, which render policy-making a complex task.
While the Afghan government considers migration a vehicle for development, policy growth and implementation have proven slow. Return policies remain at the draft stage and there is a siloed approach to reintegration.
Labour migration strategies and bilateral labour agreements exist, but with no progress on implementation and further delays due to political instability, renewed conflict and a global pandemic. This limits the possibility of regular and safe migration pathways.