Samuel Hall (subcontractor)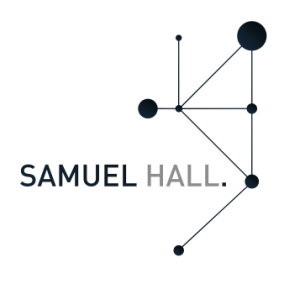 Samuel Hall is a social enterprise that conducts research in countries affected by issues of migration and displacement, producing research that delivers a contribution to knowledge with an impact on policies, programmes and people.
Samuel Hall website
MIGNEX draws upon Samuel Hall's unique combination of thematic expertise on migration and operational capacity for working in diverse and challenging environments. Samuel Hall has a research staff of approximately 40, spread across thematic research groups and producing knowledge and data on population movements in and out of countries of origin, transit and destination. Using quantitative and qualitative, participatory research methods with migrants, the team builds evidence on their social environment, protection, livelihoods, contributions and aspirations. Samuel Hall uses this evidence to deliver trainings and capacity building to actors shaping the lives of migrants, and to design programmes and policies that adhere to international frameworks.
The company's name is taken from the old English folk song Sam Hall which has been lovingly adopted as a 'local' ballad by communities in different parts of the world.