Over the past four months, we've been recruiting for our MIGNEX End-User Panel. The End-User Panel – made up of members of the policy community, academia, civil society and the private sector who work in the field of migration – is envisaged as a way ensure MIGNEX research is relevant to its eventual audience – or end-users. In order to maximise the impact of our research for potential users, we ask the End-User Panel for feedback in an annual survey, the first of which we conducted last month. 
Who is the MIGNEX End-User Panel?
Nearly half of our End-User Panel work in academia, with almost half of these working at institutions located in the Global South. Just under a sixth of the panel are policymakers from local, national government or EU agencies. A similar proportion work for both civil society and varied international organisations. Half of our End-User Panel work in just five countries: the UK (16%), Germany, (12%), USA (9%), Ghana (7%) and Belgium (7%), with 60% working in Europe.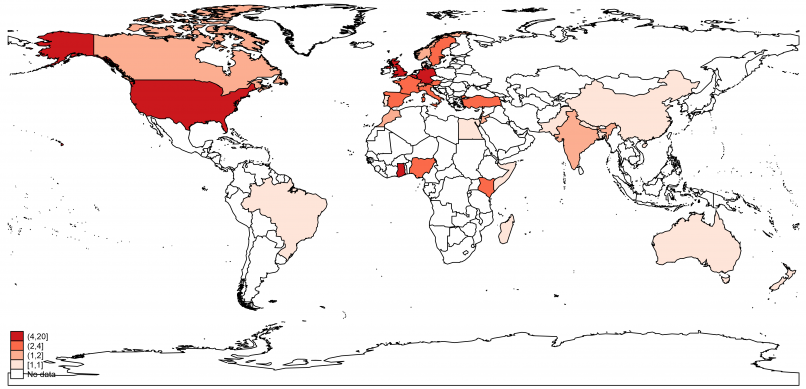 Key takeaways from our first annual survey
We asked respondents asked about their country and thematic areas of interest, their views on the migration development nexus and on MIGNEX outputs. 
Here are the key takeaways: 
8/10 MIGNEX users stated an interest in Europe; with strong interest also in Ghana, Nigeria, Tunisia, Ethiopia and Turkey.
Migration-related policy, migration drivers and migration impacts are the core thematic interests of our End-User Panel.  
The links between migration, development and policy are complex. Just 2% felt that migration policies can stop migration from happening, with three-quarters of respondents stating migration policies can both stop and encourage migration flows. 
The majority thought that EU policy should never seek to reduce migration in countries of origin, whilst 9% thought it ought to be a priority.
Generating empirical evidence will be the most valuable aspect of MIGNEX, with 9/10 respondents stating this. 
You can find the full report detailing our survey findings below. We look forward to continuing to engage with the growing End-User Panel over the course of MIGNEX.
Join the panel
Applications to the End-User Panel are accepted on a rolling basis. Find out more and apply here. 
 
Download this news